Discover the BETE Original Pigtail Spray Nozzle: Ideal for Quenching, Scrubbing, and Evaporative Cooling
BETE's innovative TF original spiral nozzle design stands as a significant breakthrough in nozzle technology. This design atomizes liquids into small droplets through a continuously descending spiral, ensuring unrestricted flow through relatively large passages. The outcome is a higher discharge velocity, allowing for reduced pumping pressures while achieving the necessary atomization.
Explore the Benefits of BETE TF Full Cone and Hollow Cone Spiral Nozzles
Originator of the spiral nozzle concept by BETE
Often referred to as pigtail nozzles, corkscrew nozzles, or helix nozzles
Exceptional energy efficiency
One-piece construction with no internal components
Reliable performance resistant to clogging
High discharge velocity
Standard male connection; special order option for female connection
FM approval for TF24-150, TF8NN, and TF8FCN (brass models)
Widely used in applications such as quenching, scrubbing, and evaporative cooling
Key Spray Characteristics of

BETE TF Spray Nozzles
Wide range of flow rates and spray angles
Fine atomization
Spray Patterns
Understanding How BETE TF Nozzles Achieve Their Spray Pattern
The spray pattern of the spiral nozzle is formed by the fluid shearing along with the turns of the spiral, which produce multiple concentric cones. These cones form two to three bands of relatively coarse droplets surrounded by wider bands of relatively fine droplets
Produces the finest droplet size of any direct pressure nozzle for very fine atomization
| | |
| --- | --- |
| Available Spray Angles | Flow Rate Range |
| 50 - 180° | 0.494 to 3710 gpm |
Available Connection Types

Materials

Pipe: 1/8, 1/4, 3/8, 1/2, 3/4, 1, 1 1/2, 2, 3, 4
Connection Methods: Thread (NPT, BSP, Male)

Brass, 316, 310, 347, Cobalt Alloy 6, Duplex 2205, A494 CW6MC (cast Nickel Alloy 625), A494 CW2M (cast Nickel Alloy C-276), A494 CX2MW (cast Nickel Alloy C-22), A494 CU5MCuC (cast Nickel Alloy 825), PVC, CPVC, PVDF, PTFE, Nickel Aluminum Bronze, Polypropylene
BETE TF Full Cone
Flow rate (gpm/lpm) is calculated at differential pressure (psi/bar).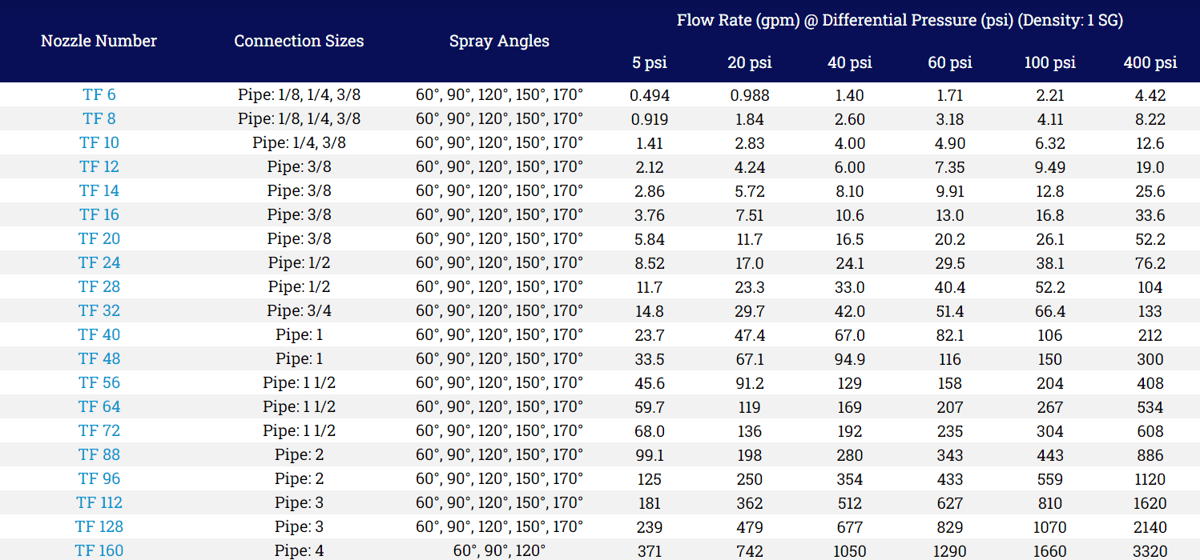 BETE TF Hollow Cone
Flow rate (gpm/lpm) is calculated at differential pressure (psi/bar).
BETE TF Nozzles
Spray Angle

BETE TF Spray Nozzle Applications
Absorption
Aeration
Cooling: Deluge
Cooling: Evaporative
Cooling: Parts
Cooling: Pond
Corrosion Resistant Nozzles
Disposal: Evaporative
Fire Protection: Deluge
Fire Protection: Marine
Fire Protection: Special
Fire Protection: Toxic Gas Mitigation
Fire Protection: Water Wall
Fogging
Humidification
Misting
BETE TF Spray Nozzles in Action
BETE Full Cone Spiral Spray Nozzles: BETE TF 112-150
BETE Full Cone Spiral Spray Nozzle: BETE TF 10 FCN
BETE Full Cone Spiral Spray Nozzle: BETE TF 40XP
BETE Extra-wide Full Cone Spiral Spray Nozzle: BETE TF 40-170
BETE Hollow Cone Spiral Spray Nozzle: BETE TF 40W