FM and UL Approved Full Cone Nozzles for Offshore Fire Protection
BETE N high-efficiency spiral nozzles are designed specifically with critical fire and explosion suppression applications in mind. These nozzles feature superior performance unequalled by traditional whirl nozzles and feature
Simplicity of design

Designed specifically with critical fire and explosion suppression applications in mind

One-piece/no internal parts
Clog-resistant
All N1-N3W nozzles provided with integral strainer
N1-N3W strainer: 316 SS, 24 mesh (0.027" opening)
Three standard pipe sizes—½", 1″ and 1½"
Male connection
Factory Mutual, U.S. Coast Guard and Lloyd's Register approved models
Spray Characteristics of the Bete N Fire Protection Nozzle:
Two spray cones—an outer, wide angle cone and a narrower inner cone—combine to give full cone effect
Spray pattern: Full Cone
Available Spray Angles

Flow Rate Range

90 - 120°

3 to 597 gpm

Available Connection Types

Materials

Pipe: 1/2, 1, 1 1/2
Connection Methods: Thread (NPT, BSP, Male)

Brass, 316, Nickel Aluminum Bronze, Titanium
Bete N Superior Performance Characteristics:
Sprays composed on droplets 30% to 50% smaller than conventional designs at equivalent pressures
Extraordinarily large surface area of spray enhances evaporation and cooling
Rugged, compact design
Multiple concentric cone spray, unique to spiral pattern, maximizes contact
Bete N Superior Fire/Loss Prevention Applications:
Gas wellhead protection
Safeguarding ship-borne cargo
Storage tank protection
Secondary explosion protection in explosive, dusty environments
Mitigation of HF and other toxic gas releases
Also available in nickel aluminum bronze and titanium, plus other materials on request.
Spray Angle Visual: 90° and 120°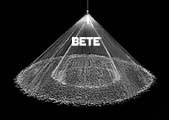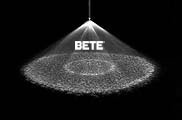 How Spray Pattern is Achieved
The spray pattern of the spiral nozzle is formed by the fluid shearing along with the turns of the spiral, which produce multiple concentric cones. These cones form 2 to 3 bands of relatively coarse droplets, surrounded by wider bands of relatively fine droplets.
The large surface area of spray improves evaporation and cooling.