Vogelsang rotary lobe pumps are exceptionally easy to maintain, come in an impressive range of sizes and designs, have numerous equipment options and material variants, and various drive possibilities and installation options. All the models have two things in common: a compact design and easy maintenance. With four pump series and various models, with up to eight sizes per model, Vogelsang pump technology can be adapted to almost any application, delivery rate and pressure range. It will economically pump anything that flows.
Rotary lobe pumps are self-priming even from a depth of as much as 9 meters, they are resistant to dry running, and they also retain their high degree of efficiency if the medium being pumped contains foreign matter. Vogelsang rotary lobe pumps feature capacities of up to 1,400 m3/h and pressures of up to 16 bar, they can reliably convey low-viscosity to highly viscous media, either pure or with a high solid matter content. Perfect for an economical solution.
How Vogelsang Rotary Pumps Work
Operating Principal of Rotary Pumps by Vogelsang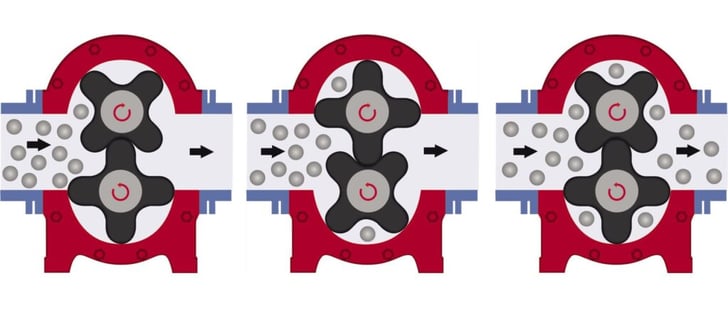 The rotary lobe pump is a positive displacement pump. The pumping principle is based on two counter-rotating pumping elements, known as the rotary lobes. These are mounted on two synchronized shafts. The rotational movement of the lobes increases the volume of the pumping chamber on the suction side. This creates suction, which draws the medium into the rotary lobe pump. As the rotational movement continues, the medium is then enclosed in cavities between the rotary lobes and pump housing and it is issued on the discharge side by the pumping chambers as they reduce in size again; the rotary lobe pump conveys the medium directly. Due to their mirror-symmetrical design, rotary lobe pumps are independent of the direction of rotation and can pump in either direction without restriction. The HiFlo lobes developed in the 1990s operate pulsation-free, ensuring low-vibration and exceptionally gentle pumping.