A 16 Page Overview of Our Engineered Fluid Handling Capabilities
The Engineered Solutions Team at John Brooks Company comprises professional engineers and application experts who specialize in fluid handling projects involving:
Pumping | Spraying | Filtering | Valves | Heat Exchangers | Compressed Air Dryers | Pressure Vessels | Controls | Piping | Mechanical Design | Water & Wastewater Treatment | and More. We have the expertise and resources to tackle everything from small custom equipment packages to complete system overhauls and turn-key solutions. It's our job to react and adapt quickly to accommodate any unique requirements or specifications your application may have.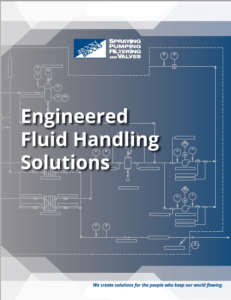 We are pleased to share our newest digital brochure, titled "Engineered Fluid Handling Solutions"!
By downloading our brochure, you can learn more about:
The Industries and Markets we Serve
Our Engineering Capabilities
Our Fabrication & Assembly Capabilities
Our ASME Manufacturing Capabilities
Our Technologies & Key Manufacturers
Our After-Market Services
Our Focused Project Management