Bete THW Hollow Cone Nozzle – Wide Spray Band Nozzle Tangential Inlet
Design Features of the THW Wide Spray Band Nozzle
Large free passage
Clog-resistant; nozzles have no internal parts
Wide spray band
Female connection
Flanged connection available
U.S. Patent 4,231,524
Inlet and outlet are in-line
Spray Characteristics of the THW Wide Spray Band Nozzle
Spray Patterns:

Hollow Cone
Spray Angles:

Wide
Flow rates:

4.11 to 564 gpm (15.3 to 2230 L/min)
The THW Advantage
The BETE THW Series is an enhanced version of the patented TH design which produces a wide spray band, giving the THW several very desirable features which are unmatched in the industry:
Exceptionally uniform spray density
Very wide band of spray
Droplet size 20%-50% smaller than competitive hollow cone nozzles
Standard Materials: Brass, Carbon Steel, and 316 Stainless Steel. Silicon Carbide available upon request.
*Spray angles are for cast alloy nozzles only, not SNBSC.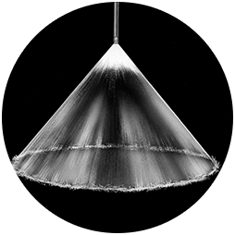 Hollow Cone – Wide Angle