Reduce Down-Time With Patented Stationary Tank Cleaning Devices
BETE HydroClaw Clog Resistant Stationary Tank Cleaning Spray Nozzle for Quick, Efficient Tank Cleaning
The unique, patent-pending, clog-resistant design quickly cleans tanks and eliminates maintenance downtime associated with clogged spray balls. Ideal for tanks up to 10 ft. (3 m) in diameter often found in the food, beverage, chemical, and personal care industries where superior cleaning with reduced cycle times and low water, energy, and chemical consumption are important considerations.
Spray Pattern: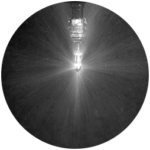 What causes spray balls to clog?
Wineries:

stems, skins, and seeds
Breweries:

grains, obstinate hops, and fruits
Food and Beverage Producers:

skins, fruit pulp, and residue build-up
Juice Processing Plants:

fruit seeds and pulp
Sugar Processing Plants:

sticky sugar residue
Tomato Processing Plants: seeds and skins
Design Features of the BETE HydroClaw Tank Washing Nozzles
Unique, patent-pending, clog-resistant design with no moving parts
HC-42 allows passage of particles 1/4" (6.4 mm) in diameter, HC-100 allows passage of particles over 1/4" (7.6 mm) in diameter – three times the free passage of a comparable spray ball
Made from FDA compliant 316L stainless steel for use in food-grade and sanitary Clean-In-Place (CIP) applications
Low pressure/high flow operation quickly cleans tank walls to reduce overall water consumption compared to a static spray ball
Self-draining and self-flushing
Laser-welded for durability

Designed for industrial or hygienic small to medium sized tanks

Available in a variety of connection sizes and types, including threaded, clip-on and welded
Clip-on nozzles include low-profile retaining pin for secure connection
Fits through compact openings: either 2-1/2″ (63.5 mm) or 3″ (76 mm) diameter
Optimal cleaning performance achieved at 30 psi (2 bar)
Spray Characteristics of BETE HydroClaw Tank Washing Nozzles
Vigorous rinsing action quickly flushes solids and contamination from vessels
Complete 360° omnidirectional coverage
Available Spray Angle

Flow Rate Range

360°

30 to 100 gpm

Available Connection Types

Material

Tube: DN20, 1in, 1 1/2in, DN40
Pipe: 3/4, 1
Connection Methods: Clip-on, Weld, Thread (NPT, G, Female)

316L
How Spray Pattern is Achieved
A limited number of large diameter orifices create heavy straight jets that disperse using specially designed deflection cups. These deflection cups are designed with a slot to help break the jets into a uniform 360° omnidirectional spray pattern.