GlobalGear® Pumps tackle the toughest high-viscosity applications
Tuthill Global Gear Series of Process Pumps are a preferred solution to support lubrication applications in large natural gas compressors.
Features:
Strong Shaft Design

– all models employ high-strength materials. This, along with oversized diameters, ensures a strong, reliable shaft with less deflection and longer seal life.
Tough Gears

– The rotor and idler gears are made of tough materials, which can handle the stresses of high-viscosity and high-pressure operation. No need for steel rotor upgrade.
Robust Bearing

– Maintenance-Free lube for life.
API Plan 13

– Vent to suction mechanical seal flush.
Designed for Extended Seal Life:
Oversized Shaft & Bearing Diameters on

Models GG130 – GG550
Large Bore Size for Stuffing Boxes
Pressurized Fluid Paths for Seal Lubrication
Options for Viscous Liquid Duty Seals
In-Line Seal Maintenance
| | |
| --- | --- |
| TuffSeal™ | Heavy-Duty Slurry Seal |
| | |
Customizing your GlobalGear Pump
Tuthill GlobalGear Pumps are versatile and can be customized to the requirements of specific applications
Optional Features include:
Relief Valve
Seal Choices
Heat Jackets
Oversized and High Pressure Flanges
Abrasive Fluid Special Construction
High Temperature Construction
Modular Port Options
Back Pull-Out Design Greatly Reduces Service Down-Time
Piping can be repaired with disturbing piping or shaft alignment.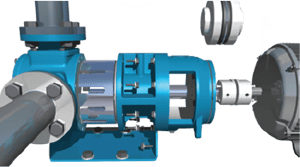 API 676 Packages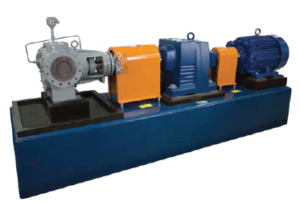 Tuthill designs GlobalGear® pump packages to satisfy a growing customer base of large, international Oil & Gas end users with API 676 standard requirements (with some exceptions). This standard is set forth by the American Petroleum Institute to establish guideline specifications for the use of rotary positive displacement pumps in petroleum, petrochemical, and gas industry services.
Tuthill can offer API 682 mechanical seals for API 676 configured pumps and allowable nozzle loads that are two times or more greater than the minimum allowable nozzle loads specified in API 676. Tuthill also offers the complete package of baseplate, electric motor, gear reducer, coupling, and guard that addresses API 676 features and specifications, along with other project specific requirements.