The MYCO media filter provides a highly efficient and reliable means of removing solids from process liquids. The MYCO media filter is a non pressurized system which is economical and easy to operate. It can handle occasional system upsets or overloads without blinding the filter media.
The MYCO media filter is a fully automatic system that ensures efficient cleaning of any process fluid while optimizing the amount of media used. The solids are discharged as a cake for easy handling and disposal. The innovative compact design of the MYCO Media filter allows for easy integration into the following:
Newly designed equipment
Existing equipment
O.E.M. systems
Machine Tool Coolants
Spray Booth Effluent
Phosphating Solutions
Parts Washing Chemicals
Mining
Steel
Cooling and Heating
Quenching Oils
Rolling Oils
Scrubbers
Pulp and Paper
Bio Diesel
Automotive
Agriculture
Food and Beverage
Machine Automation
Water and Wastewater
Principle of Operation:
A roll of media filter paper is loaded/fed into the rear of the machine and held in place between the Sea Wheel and the stainless Steel Conveyor by conveyor belt tension force. The liquid to be filtered is pumped or fed into the inlet port and is distributed into the floodbox.
The floodbox slows the velocity of the impure liquid and spreads it over the entire width of the filter media paper forming a trough between two seal wheels. The impure liquid gravity feeds through the filter media paper removing impurities from the liquid suspension leaving a solid "cake" on the surface of the filter media paper eventually blinding off and blocking liquid passages. Clean liquid is discharged through outlet into a tank or discharged into an open system. As the solid "cake" blinds off the filter media paper the liquid level rises.
The machine automatically controls the liquid level in the machine, using a simple float probe or conductivity sensor. When the liquid level rises and the float probe contact has been made, an index cycle is initiated advancing the conveyor drive motor forward. Clean filter media paper moves forward through the machine which increases the liquid flow rate and lowering the liquid level. The "spent" media is discharged to a waste container.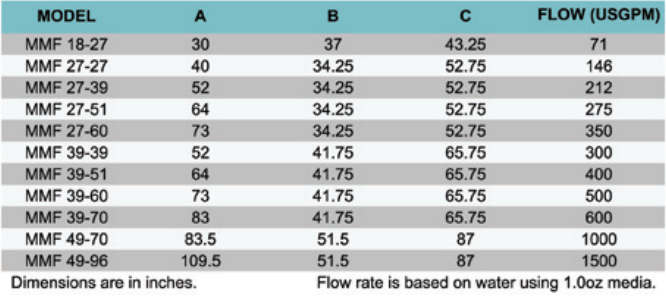 Specifications:
Epoxy Coated, Carbon Steel Construction
Conveyor Belt- 304 Stainless Steel
Seal Rings- neoprene
Steel Wheel- Aluminum or 304 Stainless Steel
Options:
Cover
Spent Media Windup
All Stainless Steel Construction or to Supplied Specifications
Custom Designed to suit application