EATON AFC Series tubular backwashing filters for applications that demand a high-pressure operation – up to 1,000 psi (69 bar) – and scalable flexibility. Available in single, duo and multiplex configurations.
EATON AFC Series Features & Benefits
Increased capacity and space saving:
Solids removal from 1 to 1,700 microns
Flow rates up to 3,000 gpm (681 m

3

/hr)
Broad selection of filter media materials and retentions suitable for a wide range of applications
Numerous automated backwash options for operator-free service and minimal backwash effluent (<2% of system volume)
Smooth pipe and nozzle connection transitions to avoid dead spots in the fluid stream and minimize pressure drop
Available ACCUFLUX™ media dramatically increases filter surface area in the same footprint
Proprietary 3-way, full-ported valves on AFC-1100 multiplex filters allow fast, frequent sequencing and maximum cleaning force during backwashing
Isolated top-to-bottom backwash flow on AFC-1100 and AFC-3300 multiplex filters ensures complete and efficient media cleaning while continuing to deliver filtered product downstream
Quick coupler valve connectors for ease of body tube removal
Options:
Straight-Thru and Standard configurations
Single, duo and multiplex (up to 20 station) models
Pressure gauge and drain valve options
Internal or external backwashing
Drain header trap
Media-cleaning diffusers for more effective cleaning at low operating pressures or volumes
304 stainless steel frame material
Single Configuration
Designed for batch or intermittent service, AFC-Series filters are ideal for a wide range of applications. Quick coupling connectors afford easy media access for inspection, cleaning, or replacement. Choice of straight-thru and standard configurations, both are available with pressure gauge and drain valve options.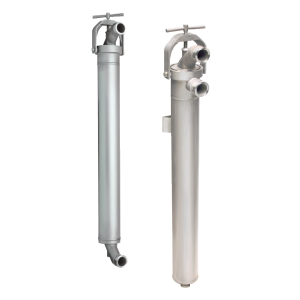 Duo Configuration
Two single filter units are connected to a pair of 3-way valves for continuous service during cleaning or maintenance. If a pressure rating above 350 psi is required, 2-way ball valves rated at 1,000 psi are incorporated. For intermittent service applications, the valves can be positioned so that both units operate simultaneously.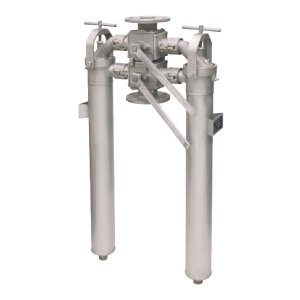 Multiplex Configuration
Multiplex units consist of two or more single filter units valved in parallel to common headers. This configuration enables sequential backwashing of individual elements while the system remains in operation.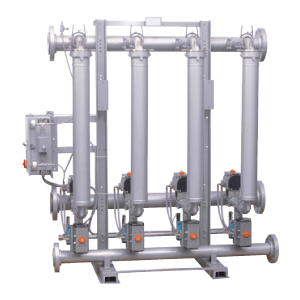 Applications of Eaton AFC Series Tubular Backwashing Pressure Filter:
CIP Fluids
Chiller Water
City Water Lines
Fresh Water
Hot Condensate
Papermaking Wet End Starch
Pelletizer Water
Single and Duo Tubular Filters for a wide range of applications up to 1000 psi and high viscosity applications
Whitewater | Shower Water