Full Coverage AST Cleaning in Minutes while Purifying the Fuel.
Alfa Laval AlphaJet Systems are built to handle the cleaning of today's fuels. Today's fuels are less stable and breakdown over time, allowing contaminants to thrive in storage tanks. Without proper cleaning, tanks are susceptible to sludge buildup, loss of capacity and contamination. In addition, tanks must be cleaned prior to inspection, maintenance, decommissioning, transportation as well as any product changeover.
The AlphaJet System utilizes an Alpha FP which can fit through a standard 2 in. (50 mm) opening. In using Alfa Laval's rotary impingement tank cleaning, the AlphaJet will thoroughly clean tanks up to 1,250 gallons (4,750 l) in capacity, from one inlet – where snaking or cutting and entry often fail to clean the top-half of the tank.
The system is designed to utilize the diesel or other class II fuels as the cleaning agent, therefore requiring no water. Equipped with a series of filters, the system will capture all bulk sludge as well as the finer particulates, therefore leaving both a clean tank and polished fuel. This system is not to be used with water or gasoline.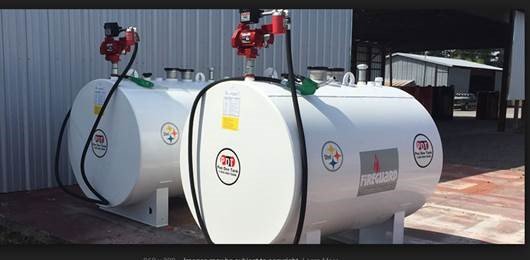 Benefits:
Fast: Clean any AST in Minutes

Fit Through Standard 2 in. (50 mm) Opening

Clean the Entire AST, including the Top

No Waste: Uses the Fuel to Clean

Polishes the Fuel while Cleaning
Components:
AlphaFP
Cart
Pressure boosting pump for supply and discharge
Three (3) filters for polishing
2 suction and discharge hoses- 15 ft. long
Operating Range:
Pressure: 60-70 psi (4-5 bar)
Temperature: 32° to 180°F (0° to 82°C)
Flow Rate: 6-20 gpm (23-76 lpm)
Cleaning Radius:10 ft. (3 m)
Wash Cycle Time: 3-20 min.
Impact: 7 lbs (3 kg) at 5 ft. (1.5 m)
Pump/Motor:
110V Electric XP (<20 amp) or 4.5 HP Gas Driven Motor

Self priming pump gear
Filtration:
Basket Strainer (reusable – for sludge)

RCI Purifier (reusable)
Micron Cartridge Filter (disposable)
Dimensions:
Cart 1: 50" x 41" x 52" H (1.25 x 1.05 x 1.32 H m)
Weight: Approx. 450 lbs (200 kg)
How It Works:
Class II fuel and sludge are suctioned from the tank through a hose, by the pressure boosting pump, and passed through a series of filters to remove the sludge and particulates, producing a polished fuel which then continues through the pump and the AlphaFP on to the tank walls, blasting residue from the surface in a precise global-indexing pattern, creating a closed loop cleaning circuit with a cycle time of 3-7 minutes. Note: Discharge container for sludge is recommended but not included.