Albin Pump ALP pumps can transfer suspended solids and are suitable for pumping and dosing low or high viscous, pasty, pure, neutral, aggressive, or abrasive liquids that may contain gases or tend to froth. Albin Pump ALP pumps are appropriate for applications containing solids in the following industries: Paint, dairy and beverage, meat and fish processing, pharmaceutical and cosmetics, wastewater and water treatment, chemical and petrochemical industries, pulp and paper, textile, soap and fats, building, ceramics.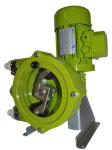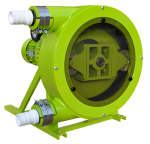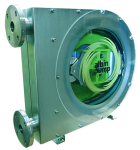 Features of the Albin ALP Peristaltic Pump:
Accurate and repeatable dosing and metering

Long life

Self-Priming

Continuous dry running

Lowest cost of ownership

Quick and easy maintenance

Robust ball bearings

Require no lubrication during the operation
Benefits to Albin Peristaltic Pumps
Self-Priming and Dry-Running
Positioning a pump in the ideal location is only sometimes possible, and self-priming and dry-running performance is often required. These conditions can cause wear in conventional pumps, resulting in flow loss and premature failure. Albin pumps can self-prime up to 27 ft. and run dry indefinitely.
Lowest Cost of Ownership with Quick and Easy Maintenance
Leakage, clogging or blockage of conventional positive displacement pumps, which incorporate seals, valves, lobes, rotors or vanes, can be a regular occurrence and expensive to rectify. Albin Pumps contain the fluid in a tube or hose, requiring only one component to be changed, which means that maintenance costs are considerably lower than other pump types. Increased plant productivity and lower repair costs mean pump payback is over months rather than years.
Accurate and Repeatable Dosing and Metering
Some industries require repeatable pump control for accurate dosing. Many traditional positive displacement pumps deliver varying flow rates, resulting in scrapped products and increased costs. Albin Pumps are accurate up to ±0.5% across their total speed range, with the additional benefit of process control capabilities allowing easy installation. Less waste means increased profits.
Long life and Great Reliability
Albin Pumps have no seals, valves, diaphragms, glands or immersed rotors to leak, clog, or replace. These pumps efficiently handle abrasive, corrosive, and aggressive liquids because the fluid stays within the tube and never comes into contact with moving parts of the pump. The ALP range is designed and manufactured for heavy-duty industrial use. The advanced elastomer technology ensures accurate and repeatable performance that outperforms all other pumps.
Using a Proven Design
Two rollers mounted at 180° on a rotor compress, alternatively a thick-walled hose in a patented concentric guide, push the pumped liquid from the suction to the discharge side. Roller movement compresses the hose along the casing wall and creates a constant vacuum at the suction side of the pump. In this way, liquids are conveyed within the hose and do not get in contact with any metal part.
Albin pumps outperform other pumps, which rely on seals, valves, or vanes. These components are repeatedly the cause of pump failure and high maintenance. No other positive displacement pump offers this unique separation of pump and fluid. In sizes ALP 09 – ALP 25, the rotor is supported by oversized ball bearings within the pump casing. In sizes AL P30 – ALP 45, the rotor is supported by the heavy-duty bearings of the flanged drive unit.
The Albin Pump ALP range provides flow rates from microlitres per minute to 10 cubic meters per hour and pressures up to 5 bar. These pumps have fixed, variable, flameproof, and air-operated drives, with comprehensive control options enabling the correct configuration to your requirements.
Albin Pump ALP Typical Applications
Water/Wastewater Treatments




Pumping / transfer/dosing of sewage thickened, sludge dewatered, sludge clarifier, waste activated sludge, digested sludge, primary sludge, lime milk, raw sludge, sodium hypochlorite, ferric chloride, sodium bisulphite, fluoride, polymers





Chemical Industry




Pumping / transfer / dosing various acids, PVDF latex, alcohol, soap, nonaromatic solvents, acids, alkalis, suspensions, stabilizers, glue, crude oil, solvents, heavy oils, cleaning of petroleum sludge food industry, in drilling plants





Food Industry




Pumping / transfer / dosing egg white & yolk, eligible fat, semolina, natural flavouring, cream, milk and yogurt, water & salt mixtures, natural flavourings, fats, fruit cake dough/mixture





Pharmaceutical




Pumping / transfer/chemical dosing, liquid protein, vaccines, serum, plasma, syrups, lotions, shampoo, liquid soap, soap emulsions, perfume, deodorants, alcohol, glycerin, sweeteners




Paint & Pigments Industry




Pumping/transfer / dosing paint, water-based paint, acrylics, pigments, ink, wall coating, solvents, paint, preservatives, glue, varnish, stains, latex, acetone, turpentine, resin