The Standard Range of self cleaning filters provides highly cost effective solutions to difficult liquid filtration problems of all viscosities.
Principle of Operation
The Airpel Series self-cleaning filter (SCF) blends modern technology with simplicity to provide a versatile method of filtering your process fluids. The filter can be set up for fully or semi-automated or manual operation during which the liquid enters the body and flows through the filter element from outside to in. Debris is collected on the outside of the wedge wire or perforated element. Cleaning takes place without interruption to flow by the rotation of the element against fixed scraper blades. The debris accumulated during rotation is deposited into the bottom of the filter body from where it can be periodically discharged either manually or automatically via the drain port. Ideal for processes that require continuous flow, the SCF range is also suitable for use on unmanned sites and with hazardous process fluids.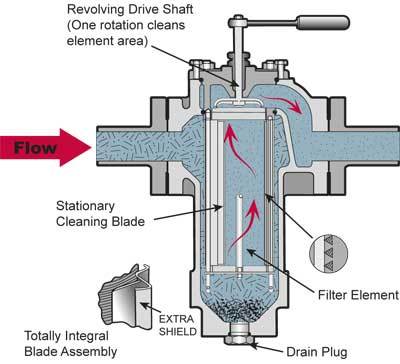 Construction
The Standard Pressure Range of self cleaning filters is comprised of a cast filter head and stainless steel fabricated bowl. Suitable for working pressures and temperatures of 13.8 barg and 260°C (dependent on seal materials) respectively. Various levels of automation and element design can be chosen to suit application and installation demands.
Airpel Series Features and Benefits – Self Cleaning Filters
| Feature | Advantage | Benefit |
| --- | --- | --- |
| Three methods of operation | Manual, motorised and fully automated options gives the client a choice of control | Client can choose level of automation required for their needs and budget |
| Contained scraper blade design | Effective on hazardous and high dirt load processes | Less down time and no contact with process fluid giving operator added safety |
| Dump valve | Control of collected waste | Zero lost product & 100% control of waste disposal |
| Wedge wire or perforation design filter elements available | Controls size and shape of filtered debris | Filtered product quality can be controlled and maintained |
| Digital control panels (IP65) | Can control several filters in remote and un-manned locations | Easy programming, no frequent check required as any errors will be reported on the panel and signals sent as required |
| Standard Airpel Design | Wide range of sizes and materials available from standard stock | Meets customers delivery and budget requirements |
| Pre-wired fully automated units | Units require mains supply connection only on installation | Cost effective due to quick / easy installation and basic electrical knowledge needed |
Airpel Series S2 standard pressure self-cleaning filter is designed specifically to provide efficient filtration for liquids on applications with maximum pressures of 13.8 barg, that require continuous filtration without interruption to the flow during the cleaning process.
This product offers a cost effective solution when no flow interruption, no product / operator contact and minimal liquid loss is required.
Easy access to the internal cleaning element is accessed via a Vee clamp so planned maintenance can be undertaken.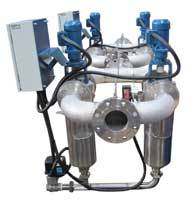 4" Self Cleaning Filter comprising for 2 x 3" units manifolded together
SPX can offer various filter models and levels of automation as outlined below, custom requests can also be provided so the filter can be easily integrated in to either a new or existing process line / plant.
Manual
Ratchet handle is fitted to the filter for the operator to carry out filter element cleaning process.
Filter 'dump' connection is suitably plugged ready for the client to their chosen valve.
Control panel and Differential pressure indicators not supplied as standard.
Motorised option
Manual cleaning handle is replaced by a motor (electrical or Pneumatic) which can then be operated directly or via a control panel.
Filter 'dump' connection is suitably plugged ready for the client to their chosen valve.
Control panel and Differential pressure indicators not supplied as standard.
Fully Automated option

Manual cleaning handle is replaced by a motor (electrical or Pneumatic) which can then be operated directly or via a control panel
'Dump' valve is replaced by an electro-mechanical or pneumatic valve connected to control panel
Differential pressure indicators fitted.
All connected to a control panel to monitor and operate the filter accordingly. No manual intervention
Specifications
20mm (3/4") to 100mm (4")
Flange and screwed connection options
Head materials in Cast Iron and Stainless Steel
Bowl material stainless steel
Filtration levels down to 25 micron
High quality 316 stainless steel wedge wire or perforated elements
Options
Heating Jackets
Manual, Electric & Pneumatic drive options
Manual, Motorised & Fully automated control options
Remote signalling
Wedge Wire and Perforated elements
Stainless Steel (std), Stainless Steel Hardened or Plastic blade options depending on process
IP65 Automation as standard
Explosion proof (ATEX) specification available on request
Maintaining Process Fluid Quality
Maintaining the product quality by the use of an Airpel Series self cleaning filter, helps to reduce downtime, increase productivity and contain/reclaim unwanted debris to comply with company and environmental legislation
Common industries where product quality is essential:
Water treatment
Food and beverage
Pharmaceutical
Paints, inks and varnishes, etc.
Automation
The Airpel Series automated self-cleaning filters allows for stand alone, low maintenance processing of liquids. The range can be automated, either electronically or pneumatically, from 32 mm (1.25″) and above. The level of automation can be selected from manual cleaning and valve operation to fully automated filters which can be supplied wired and fully tested, requiring only on site connection to the power source and dump valve connection.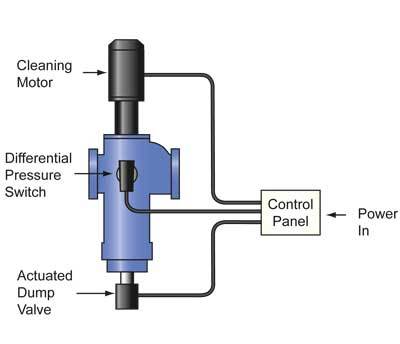 Element Design
The wedge wire element is used in 90% of applications and is likely to remain the most commonly used element in the self cleaning filter. However, for certain critical filtration applications a perforated element has been introduced.
The perforated element will prevent 'platelet' shaped debris passing through the element 'letter box' fashion and will make the passage of fibrous debris practically impossible.